This year, DH and DS went out together to purchase costumes.  They wanted to do Fortnite.  I opted to go as Trinity from Matrix Reloaded.   Simplicity 8482 (B) is almost exactly like Trinity's duster in the movie.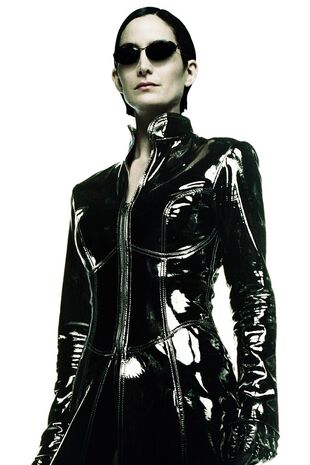 Sewing on imitation latex (backed with a knit fabric), isn't that difficult.  But I couldn't press, ease, baste or other things I deem essential to a quality result.  Oh, and several of the match points (notches) were off in the pattern.
I ordered the fabric from Mood, and they rolled it beautifully and carefully.  Unfortunately, the post office damaged it – and I can't press polyurethane!  Most of it hung out, fortunately.  And, yes, I did have to cut this single layer.
Top-stitching also proved a challenge – even with a teflon foot, it was hard to get the fabric to move smoothly.  And, even though I tested, tested, tested, my top stitching thread, plus top stitching needle would not go – shred the thread!
Here I am, sweating. It was 85 F (29.4 C) while trick-or-treating with my kid.  I did some nominal fitting before starting, but at the last minute changed out the shoulder pads to much thicker ones (without looking to see how that would add to the already pulled look).  So don't mind the bad fitting, please.  And, keep in mind that Carrie Moss and I may share the same height, but she was 25 pounds lighter than me in that duster!