Wow! Look at me – I sewed a newly released pattern from Butterick! I made View B of Butterick 6718, with a few changes.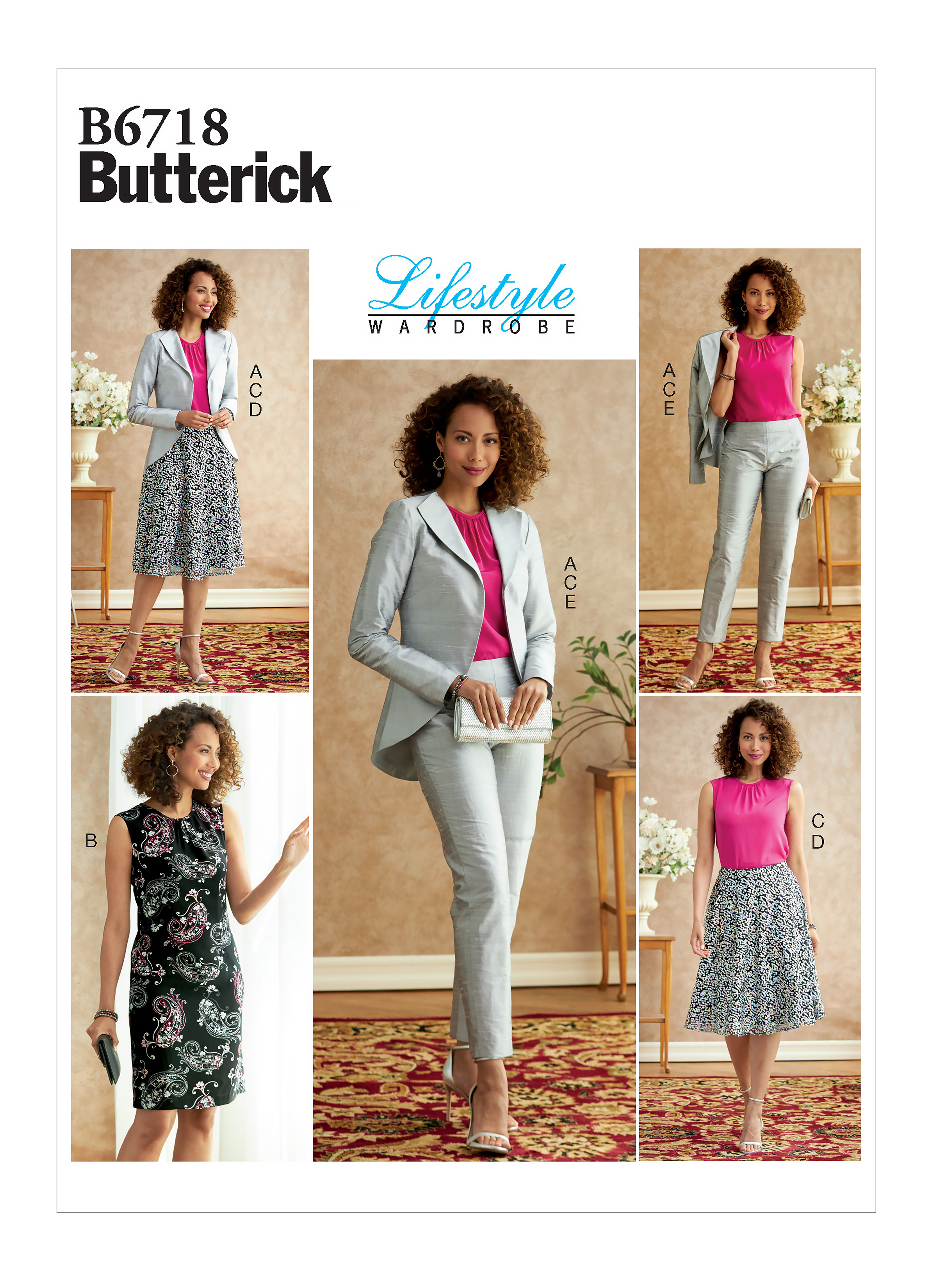 As busy as November was, I did manage to find time to sew: I finished three (simple) items and am nearly finished a far more complex one. This is one of the simple ones.
I bought the Lifestyle Wardrobe for the featured view (ACE): the pantsuit. I purchased the fabric (ivory silk wool satin with red silk crepe for the blouse), but need to muslin everything before I can start that. I started with the dress, it is the basis of the blouse, using a coordinating fabric from my stash.
The dress is fitted, with front and back fish eye darts and a gathered neckline. It's unlined: the neck is finished with self binding and the armcyse with narrow facing. I made a size 14, with modifications. I find that this style dress to be too fitted in the torso, between the bust and waist. Rather than lose the darts, I simply added 1/4 inch to each side seam, tapering to the size 14 under the arm. This also gave me more ease for sitting/ at the thighs. Though the dress feels loose when standing, it's much more comfortable to wear all day (sitting, standing, driving) with a tad bit more ease. Also, hot/humid Florida means tight clothes are not comfy. I also added 1.5 inches in length at the midsection add/lengthen line – my normal adjustment, but I think I could have done a full two inches here.
The fabric is one I've had a while – a stretch cotton sateen in a brown and black floral pattern. I read recently that dark florals are in this fall. I purchased it from Gorgeous Fabrics in 2016. Finally found a use for it! The dress is not lined, and I really like my dresses with linings, so I used a black silk twill I purchased in 2013 (also from Gorgeous Fabrics). It was intended for lining an unfinished trench coat I started back then, but at some point cut into it for another project… It's a lovely, lovely lining.
I found that I needed to make a few more changes as I fit as I went… first, I had to add shoulder darts/back darts, as I had too much fabric between the shoulder blades. I think is do to the rounding I'm starting to notice in my shoulders… The cotton sateen has body, so it was pretty obvious… (the recommended fabrics run the gamut from brocade to challis).
The neckline is gathered, and I knew that between the body in the sateen and the lining, gathering was not an option. I opted for a some small inverted pleats at the neck line. I think it's a slightly more sophisticated look.
Since my lining is black, I chose not to line edge to edge, but kept the binding and facing. I did not edge stitch the binding or top stitch the facing.
One last thing, this is shorter than I would have thought (never pay attention to the model picture) even after adding length to the torso. It's also more flattering in person than my pictures below indicate.
This is an easy make, and your choice of fabric can glam it up or make it office worthy. I wore it with a black leather blazer and low black pumps to work (the shoes in the pix are not comfy so I ditched them immediately after pictures.)
I probably won't make the dress again (too many others in the queue), but look forward to making the other pieces from this pattern.
Last, my 8yo son took pictures this morning before work, but once again, out of focus. The rest were this evening after work.