Probably closer to 4.5 years.
After moving here to Florida, I needed lighter weight clothes – more of them at least!  Pattern Vault had a link to the free pattern for the Matthew Williamson Kaftan, I loved the styling so started. And stopped, and started, and stopped.  Part of it was fabric choice, part of it was the instructions.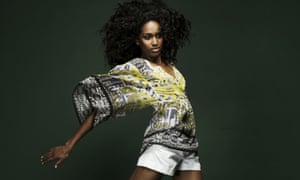 I had this really cool double silk georgette in my stash that was perfect for it.  I can't remember where I bought it.  I am almost certain it was Gorgeous Fabrics – it would have been one of my first on-line purchases.  But it could well have been Emma One Sock.  Doesn't matter now, as it was purchased in 2010.  In the beginning, I was a little afraid of this fabric – silk? georgette?  But it turned out to be an easy fabric, for the silk family.
Word of warning!  If you choose this pattern, it's pdf, which I can't stand.  But to make matters worse, each tile is its own pdf!  I think I spent the first summer just doing that (kidding).
I found the directions from The Guardian to be less than helpful.  The writer suggests French Seams throughout, and has a general order of completion, but I think that's pretty intuitive if you've sewn many things before.  However, the yoke is self-lined (on the pdf and you can see it in the photos of the mockup) but no mention of attaching it.  I looked at some other patterns with self-lined yokes, and determined what I was going to do (which evolved).
Trouble is, I can't remember what I did!  Looking at it, I did use French Seams in most places, but not all.  Here's what I think I did:
Made the triangles (with the hypotenuse in French seams) for the insets and set them aside.
Gathered as instructed for the front (under the inset) and in the back. I did this by hand, but not well.
Attached the yoke to the back, using a 3/8 inch seam (at this point, I wanted it a bit larger – and there is no size on the pattern).
Attached the yoke to the front in a 3/8 inch seam.
Attached my triangles, but again, I did them differently as pictured, doing only a slight overlap in front.  I also did not use a french seam here, but serged the raw edges.
Attached the yoke facing to the top at the neckline, stitching only from where the insets join the yoke, around the back to the other side.  Understitched by hand.
Carefully pressed under the yoke back, front, and side edge seam allowances, then slip-stitched in place.
I then attached the sleeves, using a French seam (not so great an idea, I got puckers).  Because I changed the seams in steps 4/5, I had extra fabric, so I created an inverted box pleat at the shoulder.
Sewed the arm and side seams in one, again French seam.
Narrow machine hemmed the sleeves and shirt.
At this point I was done.  Last summer. But it didn't really look finished to me.  Something was missing.
I looked at the original picture from the Guardian and decided that I liked the black trim (which may have been panels).  So I ordered some silk satin 3/8 inch ribbon from Britex, last summer.  Last week, I finally attached it by hand, using a running stitch.
I like it, despite the flaws.  I wore it last Saturday to the pool party we had. Lots of pictures: