Apparently, McCall 7542 is one of the most popular patterns of all time.  A simple boxy shirt with sleeve variations.  It's the sleeve that draws you in and they are ever so popular right now.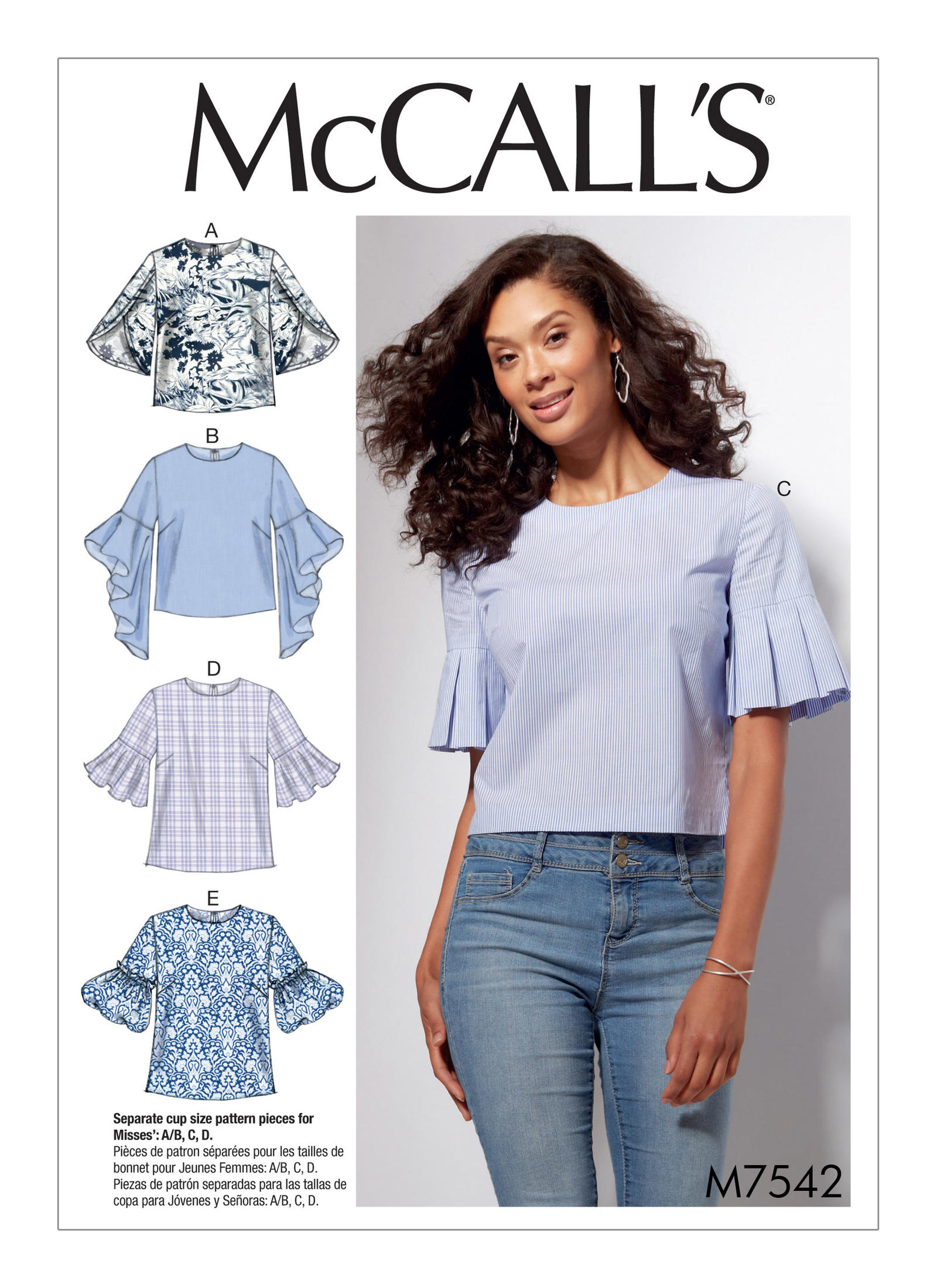 My first try did not please me, however.  I had misgivings from the beginning – mostly about my fabric choice.  I wish I had done a muslin.  Consider this a muslin, but not wearable.
The fabric is a nice crisp red shirting fabric from Gorgeous Fabrics.  I really like it, but it's better suited to the Donna Karan shirt from Vogue 1440.  I knew this and proceeded anyway, after watching the little vignette on FB from McCalls that structured fabrics work well.  It's my fault for continuing though.
Since the fabric is super crisp, I went with view C, the pleated sleeves.  I lengthened it the top, as the cropped version would not work for me.  I spent a great deal of time basting to get perfect pleats (and I got them).
Generally speaking this is an easy pattern.  Here is where I encountered problems:
 The neckline.  It doesn't call for stay-stitching, but I couldn't get the facing to lie flat without lots of clipping, so stay stitching is a must.  It still doesn't look great though it's hard to see in the photo.
The sleeves, part 1.  As I noted above, I took a  great deal of time basting, and executing those pleats perfectly.  I didn't miss.  But the lower sleeve is smaller in circumference than the upper sleeve by about 3/4 of an inch.  Others have mentioned the need to ease here, and I did need some of that to ease the two, but I did take in the underarm sleeve about 1/4 inch first.
The sleeves, part 2.  Even after taking out 1/4 inch in the armscye by bringing in the underarm sleeve, I couldn't ease this sleeve cap properly.  Multiple tries yielded terrible results. I don't think it's because there is too much ease (I think it's probably right), but here is where my fabric choice failed me – this fabric is difficult to ease.  Keep that in mind when you choose the fabric.  The photo shows my basting stitches as well.
Fit – You can see on the model that the top doesn't fit her well in the upper chest.  Mine doesn't either, even though I'm narrow and shallow there.  I get pulling on the sleeve (not the bust – but above it).  The bust dart ends in the wrong place too (too low for me).  I think these are specific to me – I usually make a 12 (often a 10 in shoulders) without issues. I'm not really sure how to fix these issues – I may experiment with changing the shape of the armscye.  None of my fitting books seem to address this, except that that Vogue Sewing suggests making the changes to the bodice, not the sleeve.  It's as if I need more width across the upper chest.  Hard to describe, and I could not get a good picture.  In the photo, on my dress form, it looks perfectly fine (though you can see the bust dart is too low).  On me, it pulls at about the point where the ease dot would be.  Note it pulls to the hip – I didn't add circumference when I added length.  Another thing to fix.
I like the top enough to work on the problems, and to look for a more suitable fabric.  For now, this top is finished, while I turn to finishing another project.